Software
Where ideas meet implementation.
Your ideas are unique and require brilliant solutions to make them reality. We build ground-breaking web and mobile apps using the latest technology. We offer a wide range of cutting edge software development skills targeting consumers and businesses of all sizes.
Our many technology buzzwords include: .Net &  Dotnet Core, ASP.Net/MVC/Web API, Xamarin, C#, SQL Server, NoSQL, NodeJS, Ionic Framework, Angular , TypeScript & JavaScript, WebGL
Featured Projects
Open Charge Map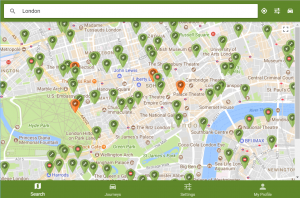 Established in 2011 OCM is now the worlds largest Open Data repository for electric vehicle charging station locations. In addition to helping manage the project, Webprofusion contribute hosting, significant technical input to design and develop the database, APIs and apps to keep the project running. The aim of the project is to enable electric vehicle use by crowdsourcing, supplying and curating quality charging station location data for use in SatNav systems, mobile applications and online mapping services.
---
Certify SSL Manager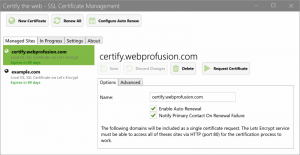 Our popular Open Source windows app provide free SSL Certificates for Windows based IIS web servers using the Let's Encrypt service. Certify provides a UI which hides the complexity of the certificate request process and performs automatic certificate binding configuration.
Ormsby Guitars – Design Studio
https://designer.ormsbyguitars.com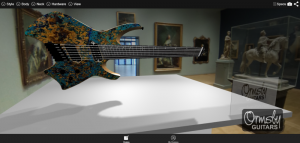 Developed to empower end-users to create their own unique product designs, the Design Studio web app was created at the absolute cutting edge of web technology. Harnessing the latest in app frameworks, APIs and real-time 3D graphics, very few web apps have pushed the boundaries of web technology to the same extent.
---
In addition to the above projects we have create a wide range of web applications, services, database system, apps (both desktop and mobile apps) and games.
If you have a project you would like to discuss please contact us:
apps {@} webprofusion.com